lol I was just trying to catch up on bloggies and saw two different scrap saturdays :)) I guess though.. it is the day I scrap the most on LOL .. so I'll jump on the bandwagon..

Here's my latest layout :)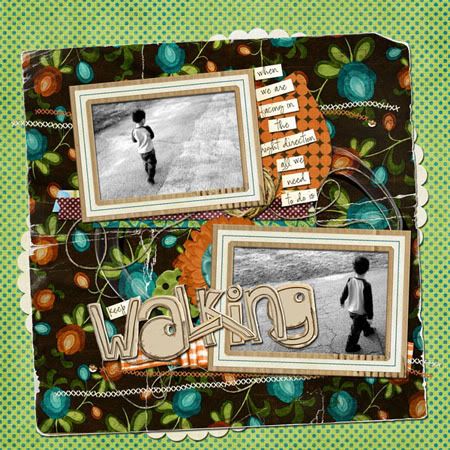 credits:
Hootenanny by Libby Weifenbach & ChereKaye
SBS worn overlays 2
flower- grown with love julie billingsley *recoloured*
acylic-o-holic- traci reed
buttons- laura deacetis fleamarketbaby *recoloured*
ribbon- fee jardine ribbony bits *recoloured*
and also of course,I took the lil silly what font are you quiz that was on reed's bloggie

You Are Palatino

You consider yourself to be creative and artistic.

And you'd like everyone else to know it!



You take design and aesthetics seriously.

You like everything in your life to be unique and beautiful - but never gaudy!

What Font Are You?
apparently mr quiz hadn't noticed.. I'm not afraid of things gaudy :)) but that's ok LOL it says I'm an artiiiiiiist. ;)
Anyway... Nothing exciting here today, lot's of cleaning, need to catch up on work-- you know the same thing every day. It's rather boring here. Oh, in other news (LOL) I got to talk to traci on the phone last night-- she talks a lot btw, I told her 5 minutes and it was nearly 2 hours. She killed my battery LOL. We're going to have a lot of fun when she comes here, every now and then I just heard a traci giggle start bubbling because of the way I said something :P I was tired aight.. LOL. She has a cute lil cali voice.. she sounds a lot younger than I expected her too, but most people do-- unless they sound manly.. that's happened once or twice and it was odd LOL. You know how you always imagine how people talk when you're posting online or whatever, and someone looks like they'd have a really soft dainty voice, and it's deep and booming-- that sorta thing lmao.
Connor of course, woke up- at like 12, and stayed up till like.. 3 (the phone conversation took place somewhere in btwn those hours), he balled when I hung up because he wanted to talk to her.. LOL poor kid. I TRIED, he refused. He'll get to talk to her soon enough :p

Anywayz.. Connor is colouring dino pics for me now, and then we're going to get going on his room again (oye). Wish me luck today LMAO.

*muah*
La